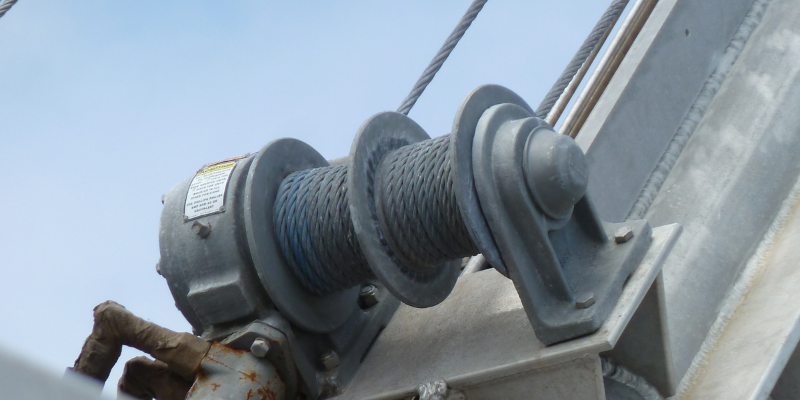 Winches can be used in various settings and in multiple industries, including construction, oil and gas, utilities, engineering and more. They are also categorized in a couple ways, so it's important to be familiar with each type so you know which winch is right for your needs. The first step is to decide how you want your winch powered, which means choosing between electric and hydraulic. We're here to help you understand the difference and guide you towards a suitable decision.
Electric Winches
What are they?
Used to pull or lift heavy items, an electric winch is motorized and powered by electricity. In most cases, the battery of a vehicle is used as the power source.
What are they used for?
Most of the time, electric winches are powered by trucks and 4x4s when towing is required. The operator will use a winch to pull the heavy equipment or vehicle onto a trailer. They're also frequently used by boaters, farmers and loggers.
What are the pros?
Not only are electric winches much quieter than the hydraulic models, but they also are more affordable. The operating costs are low compared to other options, so if you're hoping to save some money, this is the way to go. Operators require minimal physical effort since electric winches are very fast and efficient. Plus, you can transfer between vehicles easily if you want to move or reinstall it for any reason.
What are the cons?
Compared the hydraulic winches, electric winches have a smaller driving force making them not ideal for very heavy loads. Time is another factor since a vehicle motor is almost always the power source, so there are limitations on how you can use them.
Hydraulic Winches
What are they?
Just like an electric winch, hydraulic winches are used to pull or lift bulky items but are instead powered by a system and pump. Compared to other winches, hydraulic winches have many more components and a much greater power output.
What are they used for?
These winches are most often used to onboard boats and move heavy machinery both out at sea and on shore. If the equipment needing to be moved is very heavy and requires lots of power, hydraulic winches are the way to go.
What are the pros?
Hydraulic winches can withstand a lot of use and last a long time if cared for properly. Along with their durability, they can run for a lot longer than electric winches which makes them more reliable.
What are the cons?
There's a more complicated installation process that comes with hydraulic winches, plus proper maintenance and replacements are important when it comes to making the winch last longer. A more difficult installation process because of the additional parts also makes this option more expensive. Lastly, hydraulic winches run at a slow, steady speed regardless of how heavy the load is.
We're here to answer any further questions you may have about winches. If you need our assistance, feel free to contact us and allow us to lighten your load. Visit our website for more information!